Voila! This is my Team Rocket page! Go Jesse/James (or Musashi/Kojiro in Japanese)! ;o) And isn't Meowth super spiffy? :o) I also like the Butch/Cassidy pairing.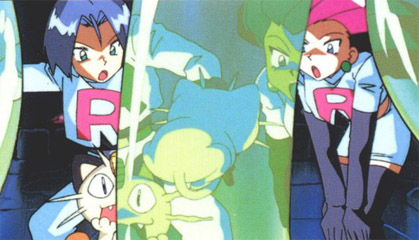 The Circle and the Cross: Butch, Cassidy, Jessie, and James are getting rings for Giovanni that another group, symbolized by a circle and a cross, want. What is it about the rings that makes them wanted so much?
The Hunters and the Hunted: After leaving Team Rocket, James is now a member of the Trinity Internal Defense Agency, assigned to protect the Prime Minister from being assassinated by the Black Paladins. Finished series.
In My Father's House: A short story told as a sort of account of James as a child
Patience: It's Jessie's 16th birthday. Will Team Rocket still make her work?
Powderfinger: A short story done in remembrance of a war that happened 30 years ago. Never forget.
A Second Chance: What would you give to have a second chance in life? Would a lifetime be too much to ask?
Shining Darkness: Giovanni wants to kill Jesse, James, Butch, and Cassidy. But why? Finished series.
The Sunny Day: A twisted little short story. Who knew Ash was a ____________?! :o)
Up in Smoke: A funny story about what would happen if Ash, Brock, Misty, and Pikachu started doing drugs. (No, we're not promoting drug use, it's just a funny little story, hee hee)
The Weight: A very short story and a little sad. *Warning* If you're extremely shippy, you might not want to read it, but if you don't read it, it's your loss.
Anna Sartin
The Dark Side of Innocence: (R) Pills Giovanni gave James are making him act strangely.
Light and Dark Eternal: (PG) Jesse and James die and are split up in the afterlife.
The Rocket Series: (R)
DangerMouse, The Great Immortal
A Day in the Life of Team Rocket!: (PG-13) A short, but growing, series revolving around Team Rocket and their daily life outside of chasing Pikachu.
Flight of the Rockets!: A short story about "blasting off again"
The Lifting Darkness: (PG-13) This takes place after the last installment of Day in the Life. How did Jessie and James really meet? What secrets are Meowth hiding? What is Team Rocket's true objective?
Little Red Riding Rocket: Sort of a cross between Pokémon and a politically correct fairy tale.
A New Dawn: (PG-13) The Defiers have fallen. Jessie and James have discovered new things about themselves and young Michael. This is the third novel in this once small, now massive fanfiction written by DangerMouse. How will J&J cope as their powers begin to awaken? What's to become of Michael, Kytty, Umiko, and the others? What's Giovanni's real goal? Read on!
One Night in a Coffee Bar. . .: A Rocket Rendition of Gilbert and Sullivan's Modern Major General. (May have some spoilers to The Lifting Darkness so you may want to read that first.
The Pokémon Blues: James sings the blues
A Pokémon Fairy Tale: Once up on a time. . .
St. Patrick's Day

Part 1: It's St. Patrick's Day in the Pokémon Universe. Team Rocket has the day off, the Trio is lost again, and who's that strange man with the business sense?
Part 2: It's still St. Patrick's Day. Be careful what you wish for. . .
Part 3: What's Ash's third wish going to be? How romantic can James possibly get? All this and more in the third and final installment!
Flowiris
In the Heat of the Moment: Jesse and James mess up again and get in trouble because of it.
Surrender Now or Prepare to Fight: (R) Something unsavory is going on in Team Rocket. Jessie, James, and Meowth are accused of treason. But why? And how?
Gemini Stargazer
Looks Like We're Blasting Off Again. . .: Determined to revenge the near-death of Jesse, James pulls a 'Team Rocket Trademarked Exit #4: the flying over the horizon with a 'ping'' on Team Twerp. In turn, the trio return for revenge-for-the-revenge, which could cause some problems.
JackalAndromeda
Amnesia: (PG) After a shipwreck, James has, you guessed it, amnesia. Not only that, but he's been separated from Jesse and Meowth.
Escape: (PG) James answers a personal ad, positive he's going to meet his soulmate.
The Pikachu Gambit: (PG) After yet another TR attempt at capturing Pikachu, Jesse is badly injured.
Jay
The End of Team Rocket: The Boss sends Butch and Cassidy to kill Jessie and James but will they do it?
The Vacation: The Boss sends Jessie, James, Butch, Cassidy and Meowth on hoilday in the hopes of getting them to work together.
_Jessie_
A One Way Ticket: (PG-13) Because of James' many failures, Giovanni orders Jessie to kill James.
The Power of Lies (a.k.a. Jessie's Revenge): What exactly is the truth behind Miyamoto's (Jessie's mother) death? Will Jessie take action against Giovanni?
That's How We Flunked the Pokétech: I think the title pretty much explains itself. :o)
Time to Get Along: Jessie and James have been separated for a few years since Giovanni gave them new partners due to their numerous failures.
The Way I Feel: After his parents die, James agrees to marry Jessiebell for a short period of time so he can get his inheritance.
Jessie "Double Trouble" Rocket
Team Rocket's Success: (PG) Team Rocket finally succeeds in getting a rare pokémon for Giovanni, although they used a rather. . . violent, but unique, method.
True Feelings: (PG) Jesse and James discover their true feelings for each other after the Holy Matrimony episode. Meanwhile, Giovanni is out to get them. . . dead or alive.
Minerva
Back to the Main Page