Ta da! This is my Slayers fan fiction page. And I'm totally for Lina and Gourry! ;o) I like other couples too, such as Amelia and Zelgadis or Filia and Xellos, but them the best. :o)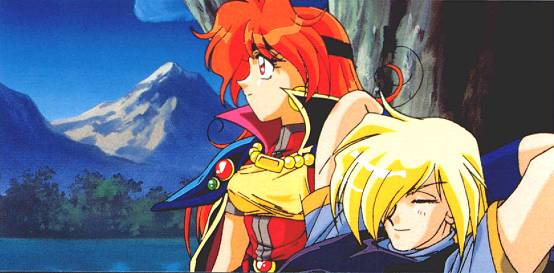 Faces: Cute little faces of the Slayers gang you can use online! :o)
L: A little creation story
Lina's Family Reunion: Has some YAOI Zel/Xel. The Mazoku family reunion! Lina, Xellos, Zelgadis, Val, and Firia on a mission of familial aspects, dragging everyone else with them.
Sun and Shadow: A Filia/Xelloss story based on Sun and Shadow from Mercedes Lackey's Heralds of Valdemar series
Ai-Chan
Freshman: Songfic
Love & Trust: Consider it the fourth season of Slayers. Amelia and Zelgadiss' engagement party, what a wonderful event! Well, that is until Lina has too much alcohol and has Gourry join the party. Two drunk fools, ruining the party... which Zel will not have. He promptly kicks them out, as he is going to be the Prince of Seiyruun. And that's when the problem begins. . . that next morning. And don't forget the adventure! Guess who decides to show up? Sore wa himitsu desu!
New Beginnings: This is taking place after Love & Trust (making this the "5th season"). Something has happened! Why is Lina running?! And where's Gourry?? Something's up, Lina's got a secret!
My Past Self: Poem; Amelia takes a look at Justice.
Music Box: Ever wonder about Lina's past? Well, here it is! This is a Slayers Forever (Neko-Chan) side story.
Slayers Life Side Story/Teaser: A side story/teaser for Neko-Chan's Slayers Life. This takes place about 8 1/2 months after Slayers Life.
Aisha C aka SHADDIT
The Double Slayers: A long time ago, in a magic place far away, a heroic group reigned as a beacon in the darkness of evil, smashing the wicked and saving the world from danger. . . but I'm not talking about them! This story is about their misfit kids and their jouney to prove that they are just as brave (and unfortuntely as crazy) as their parents. So come on and join Lacey, Griffen, Zelda, Amree-- and Xellos?! What are you doing here?!! Xellos: "Sore wa himitsu." Anyway, join the rest of the Slayers cast's offspring in this wacky adventure series that proves you don't necessarily have to be over 13 to be a hero!
The Dreamlighter: Dreams are the gateway into your imagination. Where your deepest hopes and your worst fears live. But what if you find out that place is real and that you are destined to save it? That's what happens to Lina Inverse when her reality and dreams merge in this Alternate universe series where dreams are just as real as reality!
Slayers Beyond: (Takes place somewhere during Slayers Next) This is a story about a girl who gets transported to the magical world of the Slayers..... Where magic and heroes are real and the heroes are just as dangerous as the villains. There she finds out that she is not truly what she seems. And she also finds, with the help of her newfound friends, that she plays a very important role in the survival of this magical world..........whether she likes it or not!!
AnimeCat
Daisies: (G) Lina plays a game of "he-loves-me, he-loves-me-not."
Slayers Bedtime: (G) Lina and Gourry are having to share a room again but, due to some unwelcome little guests, have to share a bed as well! A cute short story.
The Way Home: Egads! Gourry's been turned into a dog!
Catriana
A Promise to be Kept: At the end of TRY the group breaks up. Here's the secret of Zelgadiss having Ameria's bracelet and a promise that was made between them on that day...
Dare Cheung
Slayers Triumph: Between Slayers and Slayers Next, the adventures of genius sorceress Lina Inverse continues! Once again, Lina comes across a mysterious artifact and people are chasing her for it. Doesn't that sound a little familiar? But destiny has plans for Lina and it could mean the brink of a devastating war. What is this artifact and the secret behind it?
Dira
Insecurity: Lina takes time off of adventuring and starts thinking about her decisions.
Unpretty: Lina's a little touchy and hurt over certain comments made by Gourry.
Jewelz
When She Left. . .: At the end of Next, as the gang waits anxiously to see if Gourry and Lina return, Xelloss contemplates his own feelings about Lina.
Majo-chan
Minerva
Neko-Chan
Pairaka
Circle's Edge: (PG to R) Light and Darkness: Two sides to the same coin and we live on the circle's edge...
Moondance: (G) Lina and Gourry always love a good festival, but this year's Harvest Festival holds a few surprises for them both.
Rachel
Set Me Free: (G) An introspective (but can it be such in the form of a conversation and not a monologue? A question worthy of a ponder) Gourry fic featuring the swordsman, Zel, small amounts of coffee and...we'll call it humor.
Renfield
Untitled: A four-poem speculation on why Xellos smiles
Valkyrie: This songfic is the result of a preoccupation Renfield had with a mental image of Gourry as a Viking, and Lina as a valkyrie. Here's an accompanying illustration: Valkyrie Pic
Rocky
Shell Presto
One Third Human: (PG-13) Zelgadis faces his feelings, enemies, friends, and time, all in hopes of finding his cure.
Shoujo Senshi
Interludes: Brain candy; all are short, very rarely use names, and usually come from one person's point of view.

Companion: As close as Shoujo'll probably get to writing a real Lina/Gourry fic due to having a hard time writing Gourry (Webmistress' note: We still like Shoujo anyway, don't we? ;o) Hee hee)
Despair: Probably the only Amelia/Zel (sort of) fic that you'll ever find Shoujo writing. Shoujo has a Xel/Zel bias as you can see if you go to Totally Kawaii (on my links page). :o)
Contemplation: A look from Xellos' point of view.

Journey: Everyone's favorite depressive chimera finally gets fed up with his search. Not exactly a good thing when that's what's been holding him together.
WaruiChan (WC)
Baby Love: This is just a short little songfic from Gourry's point of view, on his feelings towards Lina
Back to the Main Page